Aware IM 8.0 is now available with a brand-new Configuration Interface
Version 8.0 introduces a new completely re-written user interface for developers. Based on a popular Eclipse platform the new Configurator interface is sleek and modern. More importantly, it increases development speed by providing the new form designer, live previews and faster access to information.
Already incredibly fast, the development process in Aware IM is even faster now! Read what version 8.0 has to offer below.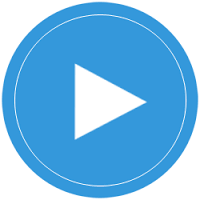 Watch video about version 8.0
1. Live Previews
"Live" previews of forms, queries, document templates and visual perspectives are now available. See how forms, queries and visual perspectives look in a browser without starting the browser. Make changes and immediately see the effect of the changes on your screen.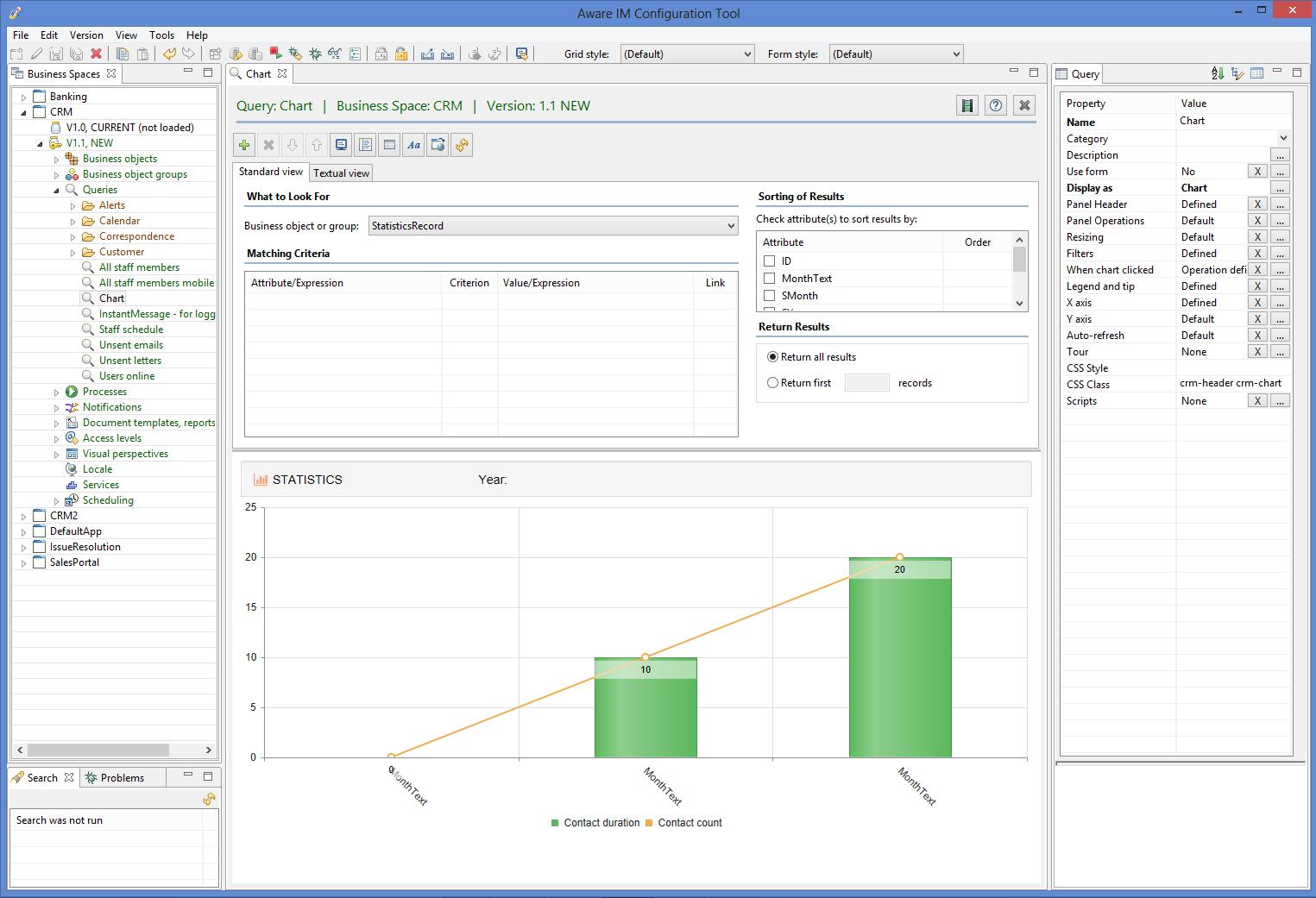 2. New Form Designer
Design forms faster – see how your forms look directly in the embedded browser. Select form cells directly in the browser and see the changes you make immediately. Drag and drop cells, select columns directly in the browser.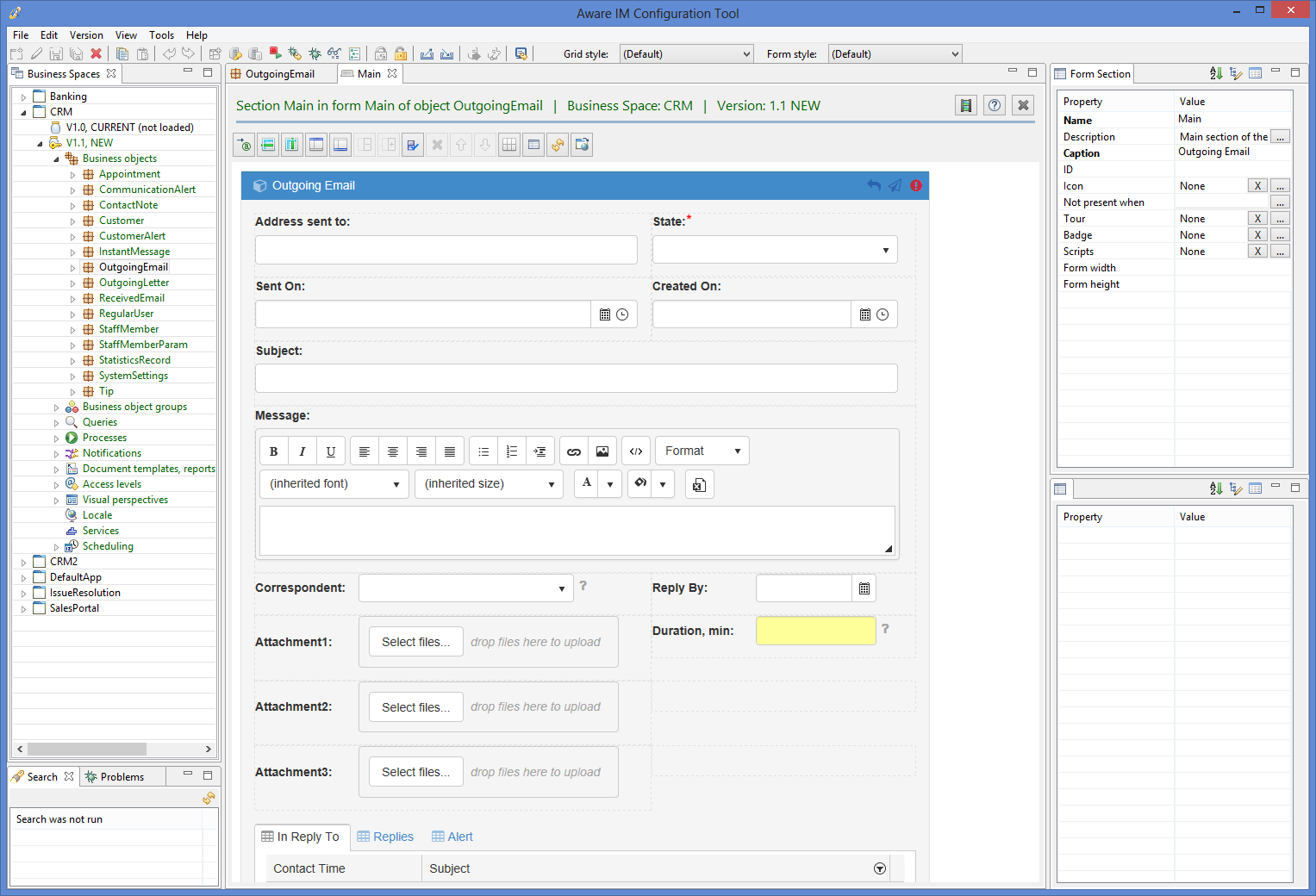 3. Fast Access to Information
Version 8.0 implements a new property-based user interface paradigm. A developer is always in control – access to all properties is fast and straightforward. No more multi-level nested dialogs!
4. Embedded Testing
Test your applications without leaving the Configuration Tool! In some cases you can even avoid putting the application "under test" – make changes on the fly and continue testing the application.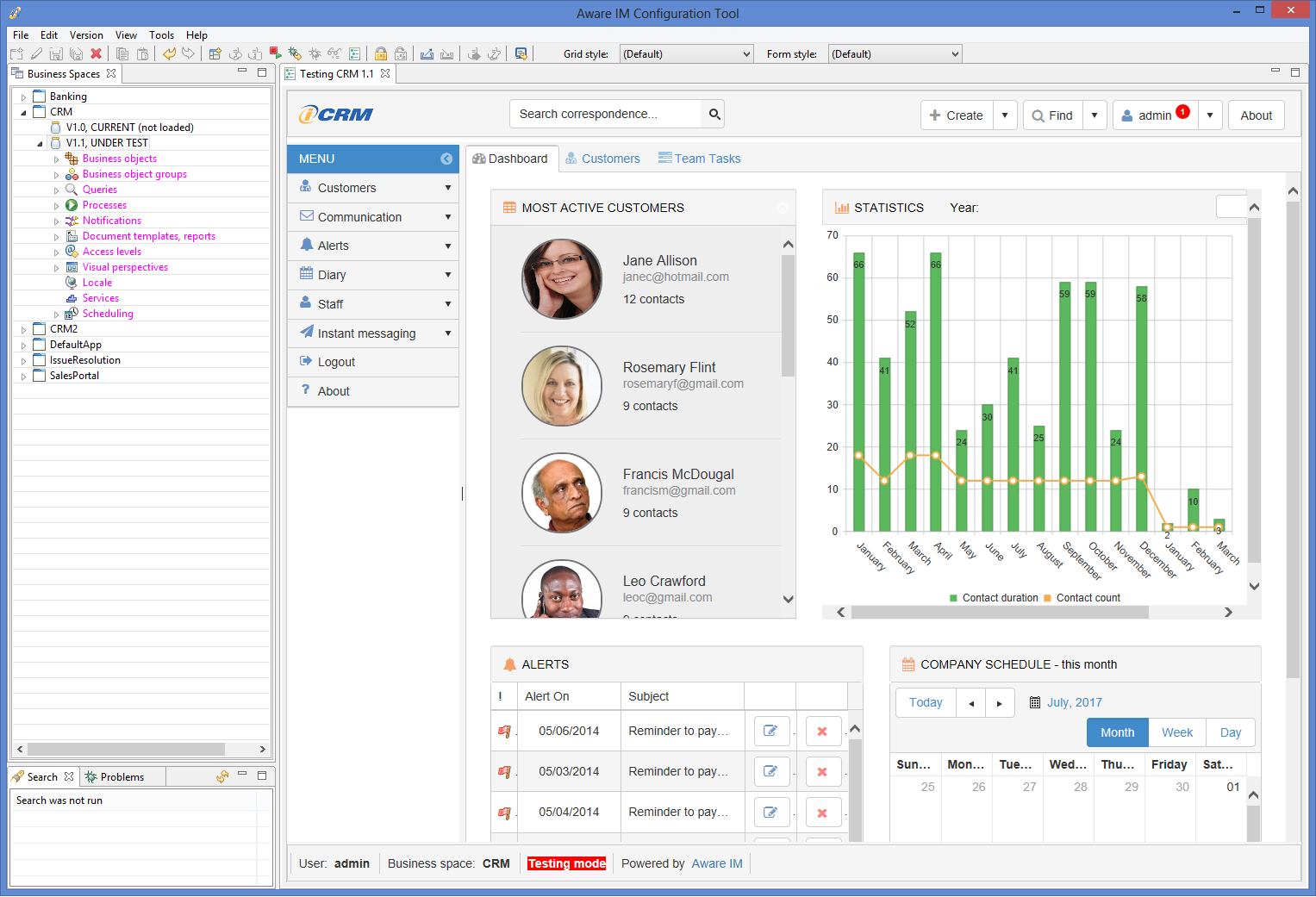 5. Other Improvements
"Outline View" for the Report Designer – find and select report elements faster
Allocate tables for testing in separate databases – makes testing of external tables easier
Move windows around as you see fit to achieve the layout you are most confortable with
Menu button for operations in trees, search scripts and more
What is Aware IM?
Aware IM is a rapid application development tool that lets you create powerful aesthetically appealing web applications quickly.
How can Aware IM benefit you
Achieve incredible productivity – using Aware IM you can accomplish in a few hours what it would take you days or weeks to do using traditional web application development tools or other RAD products.
No need to know web technologies – Aware IM automatically generates everything: database tables, relationship tables, SQL queries, web forms, GUI widgets, web services etc. You do not need to know HTML, PHP, SQL, or even database concepts.
Tons of business functionality available at your fingertips – personalized documents, access control, report generator, incoming and outgoing emails, user-defined workflows, import/export templates, Gantt charts, schedulers and more.
Deploy your web application in a cloud, Intranet or Internet server, offer your applications as SaaS – with Aware IM you can deploy anywhere.
Platform independent – Aware IM applications work in exactly the same way on Windows, Linux, Mac OS X, with SQL Server, Oracle or MySQL.
How to get the new version
If you hold an Aware IM license, simply login to your account and click Update on your license form.