New in version 5.9
Aware IM 5.9 is the most significant update since version 5.0. It is literally packed with goodies. Read on to learn what they are.
Don't forget to watch the New in Aware IM 5.9 video tutorial.
Native mobile applications
With Aware IM 5.9 you can create native mobile applications from your browser-driven mobile applications. Aware IM automatically generates a zip file from your Aware IM mobile application that can be uploaded into Adobe Phone Gap. You end up with a binary file that can be downloaded to the mobile device. It is that simple!
Watch the new video tutorial on Building Native Mobile Applications to find out more.
Gantt Chart
You can now add some serious resource management capabilities to your Aware IM applications. Check out the new Project Management application to see how it works.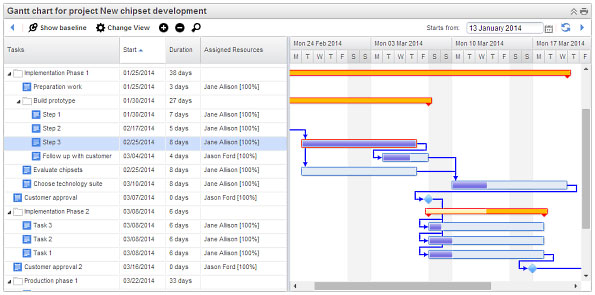 Watch the new video tutorial on Working with Gantt Chart for details.
Electronic signature
You can allow users of your Aware IM applications to enter their hand signature on touch screen of mobile devices – or even using the mouse on desktop computers. Aware IM automatically captures the signature and stores it for future retrieval.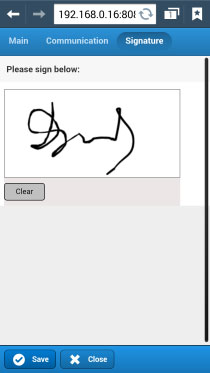 Improvements to mobile interface
Almost too many to list here but we will try.
iOS, Android, Windows, and Blackberry – Aware IM 5.9 now supports them all!
New themes – here is a couple:

Grids – customizable, user-sortable, with item selection and column grouping – all on mobile devices!
Charts – fully featured – just like on desktops.
Electronic signature – see above.
Document fields in forms and operations – upload, view and delete documents.
Slide-out application menu.
Current location – Aware IM can now automatically store the current device location and calculate distances.
Separate visual perspectives – for phones and tablets. One size does not have to fit all.
Other new features – slider and spinner controls, advanced script support, icons on form buttons, lots of others – indeed too many to list. Please have a look at the release notes for the full list.
Other improvements
Last – but not least – heaps of other improvements. Here are just some of them (check the release notes for complete list):
Calendar – ability to specify time interval for the day view, shade non-working days, disable drag and drop, export iCal file, more flexibility with item rules.
Scheduler – ability to shade non-working days and hours, show 'today' line, more flexibility with item rules.
Queries – now include a preview feature that shows how queries look like.
Flexing, alignment and packing support – for vertical and horizontal layouts in visual perspectives.
Images of screen charts – can be saved in picture attributes.
Multiple file upload – can be done by drag and drop.
Aggregate operations – should now execute faster.
New functions – to calculate sizes, distances, etc.
Project Management – new sample application.
How to get the new version
Click here to download the free evaluation version of Aware IM.
If you hold an Aware IM license, simply login to your account and click Update on your license form.